Attention all homeowners, green advocates, and smart investors! The 24th Annual Metropolitan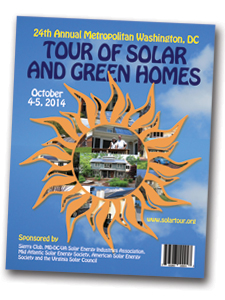 Washington, D.C. Tour of Solar & Green Homes will be held on October 4th and 5th from 11 a.m. to 5 p.m. This fall, green enthusiasts like you have the unique opportunity to view over 50 energy-efficient homes and solar throughout D.C., Maryland and Virginia.
D.C. metro area residents will open their homes on the tour to showcase a variety of solar design, technology and sustainable living concepts, including solar electric (photovoltaic panels) and solar hot water systems, passive design, radiant heat, energy-efficient appliances, and energy-saving building construction techniques. Many homeowners also practice energy and water conservation measures, recycle and compost, and charge their energy efficient plug-in electric and hybrid vehicles from the solar panels on their homes! Nissan is cosponsoring the event and will have Nissan Leafs plugged-in at several homes on the tour.
Get your "passport" or Tour Guide for $5 at area MOM's Organic Markets. This guide is your admission to the tour. Not only does it serve as a map with locations and directions to each home, but it provides a wealth of information on what's hot in renewable energy: new technologies for residential homes, solar leasing, and the incentives and affordability of green systems. The guide can also be downloaded for free at
http://solartour.org/download.html
.
Our sister tour, the 5th Annual Maryland Tour of Solar & Green Homes will highlight more than 35 green homes and buildings in Maryland from the Laurel area to Frederick and Washington Counties. The tour includes a variety of residential solar homes featuring many energy efficient improvements as well as renewable energy improved buildings and properties. The Maryland Tour Guide can be purchased for a tax-deductible $5 fee from participating distributors in Maryland. For the latest information on both tours, Like us on Facebook or visit
http://www.solartour.org
.